Meet Barry Wenban
Hydraulic Service Engineer Hydraquip Hose & Hydraulics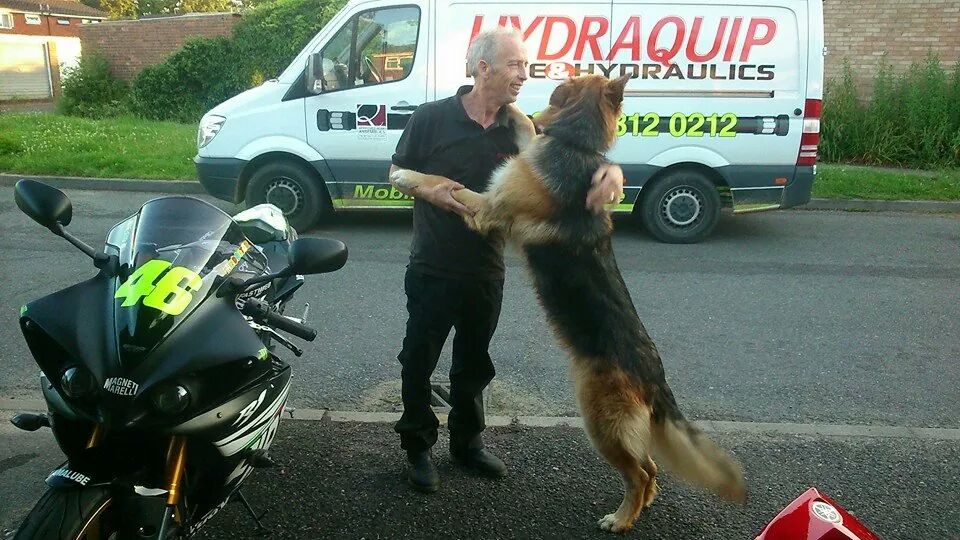 From the age of 11 years old when I used to help my Dad fix motorbikes, I have always been interested in vehicles and mechanics and knew I would want to work in this field when I grew up. Once I left school I was lucky to get an apprenticeship with my local council which involved fixing and doing mechanical work on dust carts. From here I went on to work with plant machinery and worked at a demolition firm called Wooldridge repairing HGV vehicles and lorries, diagnosing faults and actively solving any problems that may occur in the vehicles' performance. I really enjoyed my job and worked here for over 20 years, however I began to feel a bit fed up with the job after doing it for so long and felt that I wanted to seek new challenges and try something new.
At that time I had a good working relationship with the team at Pirtek Crawley as I regularly phoned them to assist with a breakdown or repair when necessary and whilst working at the demolition firm when speaking with one of Pirtek's engineers while he was on our site carry out a repair, I was offered a job. I happily accepted and soon after began working at Pirtek Crawley in 2007 as an on site mobile hose engineer attending sites when breakdowns occurred  or if a repair was needed on a hydraulic hose or piece of hydraulic equipment. However, after 3 years I began to lose interest  whilst at Pirtek Crawley and decided to think about moving on within the hydraulics industry. That's when I thought of Hydraquip. I had heard of them from working in the industry previously and knew they were a UK based company who had a large fleet of vans which appealed to me as I liked the on site repair side of the job. I also knew some of Pirtek Crawley's employees who went on to work at Hydraquip, one in particular Lenny Sams who works at the trade counter, and a couple of others which encouraged me further to make contact with Hydraquip. I would like to welcome Andy Carr and Malcolm Nightingale who I also worked with at Pirtek Crawley, they followed suit and joined team Hydraquip Crawley!
I then approached the Managing Director Duncan MacBain and was offered a job at Hydraquip in 2010, I was thrilled and accepted straight away. Throughout my time in the hydraulics industry and having now been working for Hydraquip for 5 years, I have gained varied knowledge on a wide range of hydraulic and industrial hose and fittings and use this knowledge on a daily basis when repairing faulty cylinders, rams, motors, hydraulic hoses and various hydraulic machinery. In my opinion, Hydraquip are a very easy company to deal with and work for, everyone gets along, it is friendly and my colleagues are always willing to help each other out. I'm glad I made the choice of moving to Hydraquip as they have expanded a lot in my area in the time that I have been working for the company, and the same can be said for all of their other Hose & Hydraulic branches. Hydraquip Crawley have grown considerably and now operate with 5 engineers working in and around the Crawley area alone with full national UK coverage.  With the growth generated, Hydraquip have invested back into the company to provide engineers with newer vans which carry more stock than any other vans I have seen and have been designed with a workbench system which keeps the stock nice and tidy. The Hydraquip vans are set up a lot better than vans I have worked in in my previous jobs and give me a lot more room to do my work and carry out my repairs more efficiently.
On a personal level, I have 3 lovely children, 2 boys and 1 girl and enjoy spending lots of time with them at the weekend. My hobbies are motorbikes, motorbikes, motorbikes! I have 3 in total and my wife has one too and in our spare time we regularly enjoy going to bike meetings and events around Box Hill and the Ace Cafe Bike Night in London. I wouldn't say that I have a single favourite bike but I love superbikes and anything fast! I also like watching the Superbikes races on the TV and have actually ridden around the Brands Hatch track myself! Anything to do with motorbikes I am definitely interested in!
 Tuesday 10th February 2015
Meet The Team