Meet Paul Bayley Jones
Branch Manager Hydraquip Hose & Hydraulics Widnes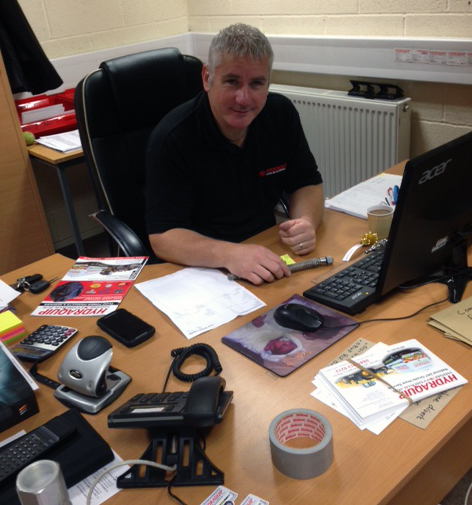 After leaving school I started out working as a labourer handling building materials on site, moving from site to site within the Wrexham area. After a good twelve months business had slowed down and I was made redundant. So aged only seventeen I knew I had to pick myself up and go again. I started doing a bit of delivery driving for a courier company before moving onto a plastic and injection moulding company making plastic caps for toiletry and pharmaceutical products. After working for the company for three years I was promoted to a Shift Manager, and two years later another promotion led me into a Production Manager. I was with the plastic injection company for a good 15 years when the factory closed in 2002. It was quite a difficult time as I had just got married and bought a house, not knowing your next step is a difficult position to be in.
Whilst looking for a job and applying for jobs on the Wrexham Industrial Estate, I was working for myself doing jobs here and there. Luckily I had landed myself an interview at the time with the General Manager at Blackwell Hydraulics who offered me a job as a Branch Manager for their Runcorn branch. Although I had no hydraulics experience, Colin was impressed with my previous experience as a Production Manager. To be honest, he took a chance and it paid off. The Branch Manager role for Blackwell Hydraulics was completely different from what I was used to working in the factory, this was a completely new avenue. I was in a branch with a workshop with very little understanding of the industry and the products. In those days Stuart Spurdle, who now works for Hydraquip Wrexham also worked at Blackwell Hydraulics. Stuart trained me for the first few weeks, covering the basics of the stock, how to make hydraulic hose assemblies and the paperwork involved. I must admit it was quite a lot to pick up and learn, it was a long process to learn the difference between the fittings, the types and what was suited to which application, though with my focussed attitude I got there.
In 2011 Hydroscand bought out Blackwell Hydraulics, the team and I were informed that the Runcorn branch would close and we would be moved across to the existing Hydroscand Widnes branch. I was left disappointed that whilst I would be kept on, I would not be able to retain my job as a General Manager which I was promoted to whilst at Blackwell Hydraulics. My role had changed to Branch Manager of the Hydroscand Widnes branch. Although it was a change and no one really likes change, at the same time it was quite exciting joining another company and learning new procedures and company policies. The team and I had worked on bringing our existing customers over to the Hydroscand Widnes branch and building the customer base up from there. Twelve or so months later the company did start to make a few redundancies which was difficult and quite concerning to watch. Also Hydraquip at the time moved into the North Wales region which had no immediate effect on our branch but it certainly impacted the Hydroscand Wrexham team. Hydraquip made their presence known and were ambitious to drive the company forward. It placed more pressure on my team as we weren't sure of what to expect next. What was nice to see and drew me to Hydraquip was their level of marketing, continuously posting jobs their engineers had carried out, new literature with new products, mail shots and the amount of merchandise they were sending out. Seeing this, I felt that we were being left behind and questioning why our company at the time were not taking these or similar steps to move forward, make an impact and respond to Hydraquip's fierce marketing tactics. It was then I sent Duncan a message and we arranged to meet, along with the Regional Director Fintan to discuss the possibilities of opening a Hydraquip Widnes branch. I began working with Hydraquip on the 2nd September, with the aim of putting a new team together to open up a new branch in Widnes, and here we are. It's an exciting challenge, I have Adam Holland as Trade Counter & Sales Support and Nathan Richardson as a Sales Representative who both joined me from Hydroscand. Hydraquip certainly have the resources available to put marketing plans in place to support the branches.  I am looking forward to running campaigns to build the branch awareness and working with the marketing team on running promotions to bring customers in.
When I'm not at work I love to spend time with my family. I am a real family man. I am married with two children, a little girl who is ten and a boy who is eight. My boy is into Star Wars, he is into the Lego Star Wars series. He has all the figurines which I have played with him a few times, though I often get shouted at as I'm not playing with them properly apparently! My daughter is into her One Direction, the Kardashians and loves playing on her Nintendo 3DS. My wife is a primary school teacher and I really am so proud of her. We like doing things as a family, we all eat together and have discussions at the table, it's so important for the kids these days. We play board games and often go on weekends away in the caravan in North Wales and across the UK.
Monday 12th October 2015
Meet The Team