Hydraquip Are Proud To Be Working In Partnership With And Are An Approved Supplier To Biffa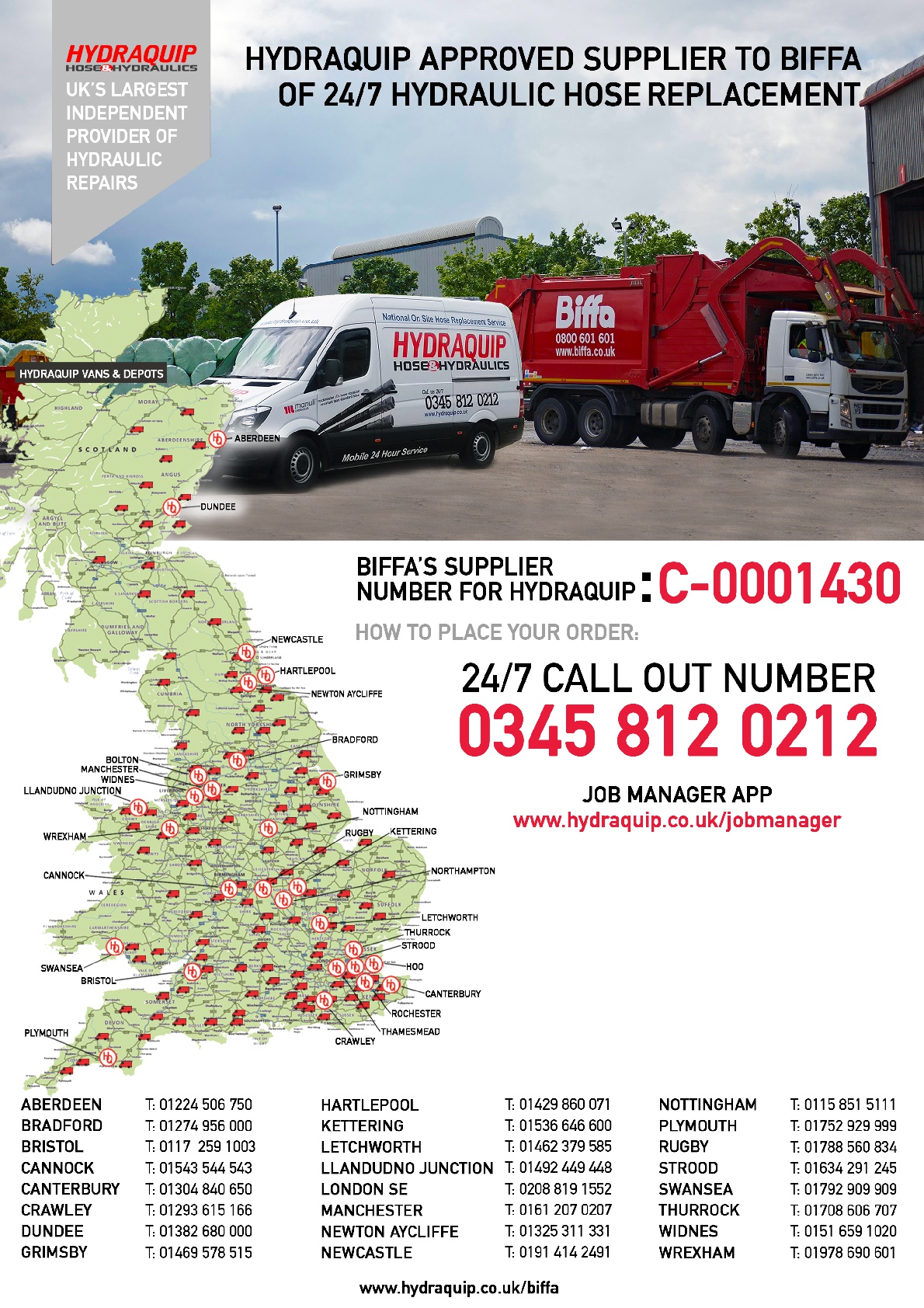 Biffa have been servicing the waste management needs of the UK since 1912 and are now known as one of the UK's leading integrated waste management companies. Biffa have grown significantly and now operate 250 front line vehicles covering 95% of the UK postcodes with over 7500 employees. Biffa provides collection, recycling, treatment disposal and technologically driven energy generation services. As a leader in the waste management sector, Biffa require a reliable and trustworthy service when a breakdown or fault occurs with any one of their vehicles. As an approved supplier to Biffa, Hydraquip Hose & Hydraulics offer a 24/7, 365 days hydraulic hose breakdown service to ensure Biffa's fleet are left with the minimum amount of disruption when these breakdowns occur.
Two of the sectors Biffa cover are household waste and industrial and commercial. Hydraquip's network of 144 hydraulic hose engineers placed strategically across the UK, offer a full national coverage to ensure an engineer arrives on site quickly no matter where in the UK the breakdown may occur. Biffa collect and recycle a variety of different waste including dry mixed recycling, food waste, hazardous waste, manufacturing waste and household waste. Hydraquip only use the highest quality products with access to a vast range of solutions for all applications including specialist hose and fittings designed to withstand chemicals and hazardous materials. Hydraquip understand the effect a fault or breakdown can have on the day to day running of a company and the costs involved which is why our mobile workshops are fully equipped with the products and tools required for the breakdown meaning that 99% of jobs are completed there and then.