Hydraquip's philosophy is to employ the best people that can provide the best all round levels of service in our industry and as such each of our fluid power hydraulic trade counter branches are operated by experienced and knowledgeable teams who can provide the correct solutions and products that meet exactly the needs of a diverse customer base.
Each hydraulic trade counter carries a comprehensive stock of fluid power products including hydraulic hose & fittings, industrial hose & fittings, oils, pneumatic components and hydraulic valves, gauges, pumps, hose reels and many other fluid power and hydraulic products from stock to offer an instant over the counter response. Hydraquip has access to over 50,000+ fluid power products, supplying a number of reputable brands throughout the fluid power industry, the majority available for a next day delivery.
The full ranges of products are supplied locally, nationally and to export customers by the hydraulic trade counters which are placed strategically across the UK to promote national, but yet a local service to its customers. Hydraquip's hydraulic trade counter branches  supply to various industries which cover Agriculture, Aviation, Construction, Manufacturing, Marine, Motorsport, Offshore, Plant Hire, amongst some of them.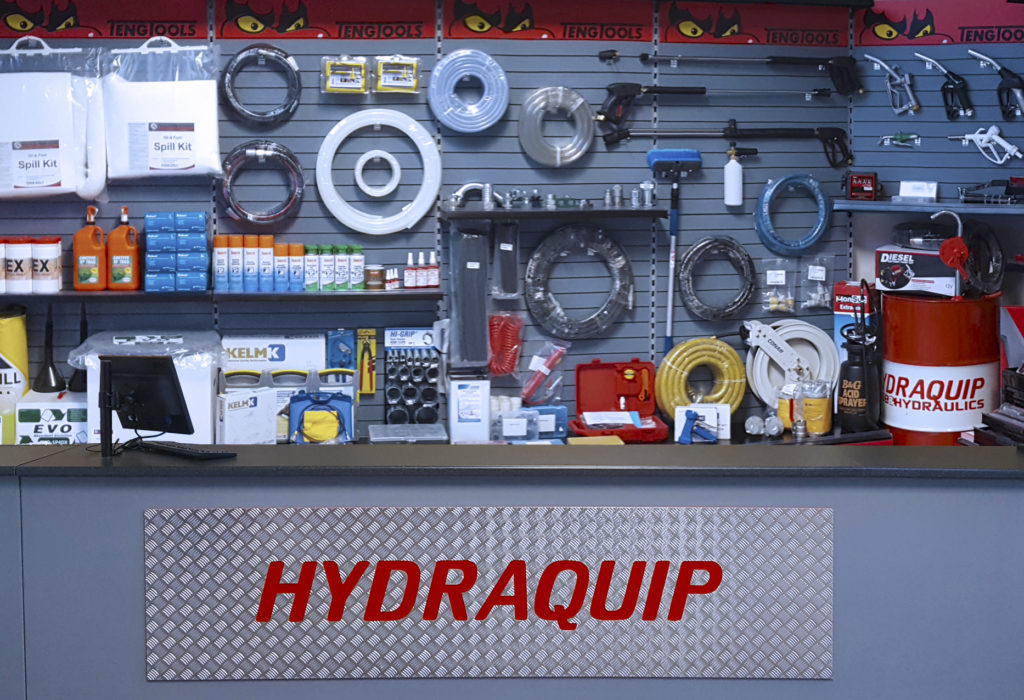 Hydraulic Trade Counters Offer a Whilst You Wait Hose Service
The in house resources allow Hydraquip to provide an instant hose service to customers requiring a pattern hose assembly manufactured whilst they wait,  with dedicated assembly production facilities which allow branches to manufacture a one off hydraulic hose, or high volumes of hydraulic hoses. For an out of hours and emergency service, Hydraquip's trained on site engineers can visit your place of work to carry out any repairs.
Across the Hydraquip Group there is a combined experience in hydraulics and fluid power of over 1,000 years which means that within the company there is the knowledge and solution to hydraulic enquiries ranging from the sourcing of a component to the design and build of a system.