Hydraquip Are Proud To Be Working In Partnership With And Are An Approved Supplier To Veolia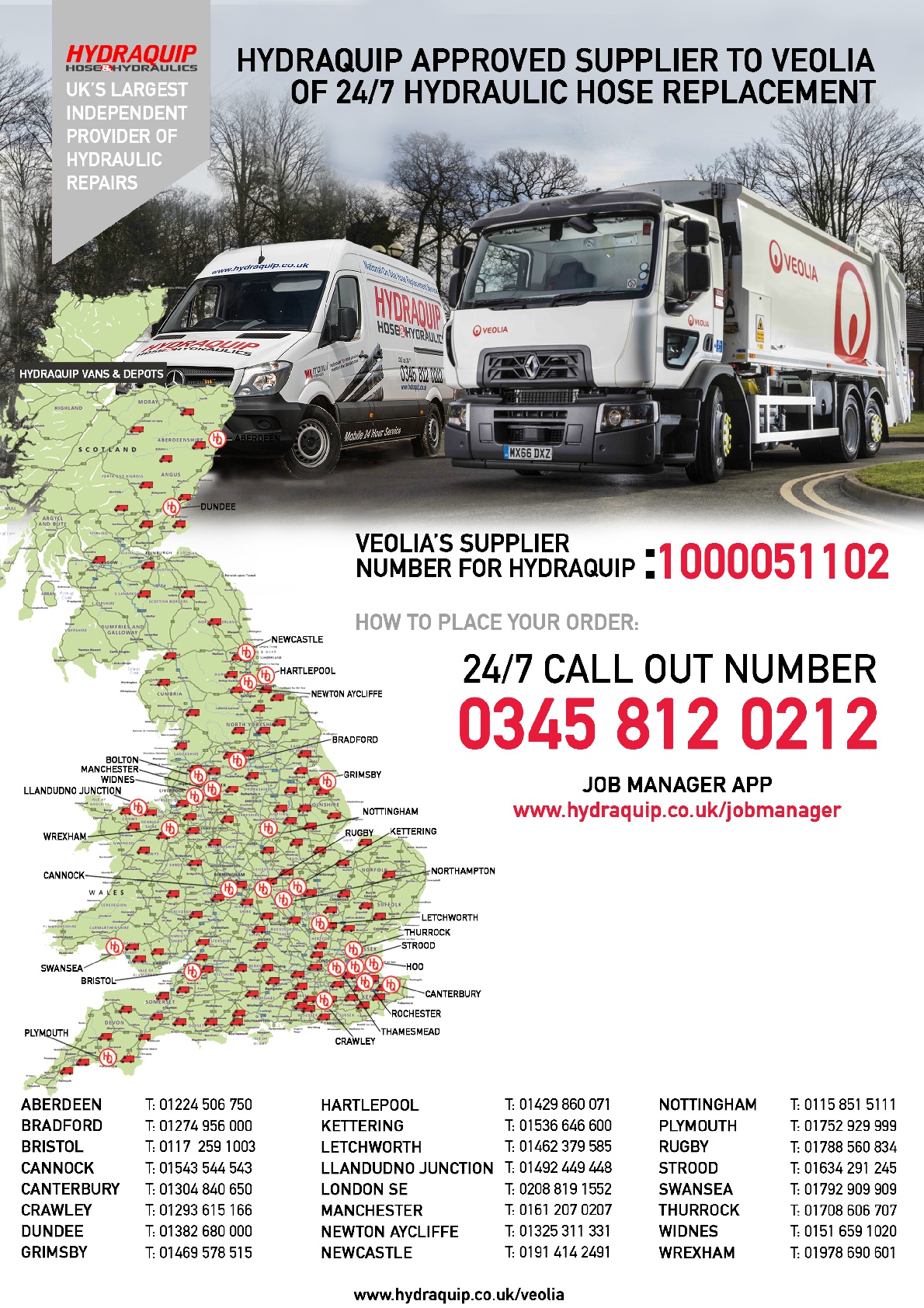 As a UK leader in environmental solutions, Veolia require a reliable and trustworthy service when a breakdown occurs on a vehicle. Hydraquip Hose & Hydraulics are an approved supplier to Veolia and UK leader in hydraulic hose repairs offering an excellent level of customer service and a national 24/7 365 days breakdown service.
Veolia provide many recycling, waste and environmental services across the UK every day in Birmingham, Hampshire, London, Staffordshire, West Berkshire, to name a few. Their services include collecting household waste and recycling, cleaning and improving the local environments as well as research into transport, energy, water and waste efficiency. In the event of a breakdown or when a repair is required on site, Hydraquip's qualified and trained engineers are on hand nationwide 24 hours a day to ensure their customer's machinery is returned to full working order as quickly and efficiently as possible following all the health and safety guidelines for successful job completion. Hydraquip have hydraulic trade counters in 24 locations across the UK from Aberdeen to Plymouth with engineers also based in remote locations. Hydraquip's workshops are fully stocked with hydraulic hose up to 2" and the facilities to manufacture hydraulic hose assemblies there and then. The engineers are able to manufacture a variety of hoses including breaker hoses and multi spiral hoses with a wide range of end fittings available such as JIC or BSP. The expertise and experience within the group allows them to fully manufacture and install hoses on vehicles such as bin lifts, refuse trucks, dust carts and PTOs.
Hydraquip's engineers have the in depth knowledge and training required to carry out repairs and maintenance in the numerous industries which Veolia serve including oil and gas, airports, transport, healthcare, water and food and beverage. Whether it's a complete design and build of a power pack on a ship or manufacturing a flight simulator, Hydraquip offer the most cost effective and time effective solutions to ensure a system runs to its full potential, whilst always considering the environmental impact of this work to conform with Veolia's environmental ethics and sustainability. Pre agreed maintenance contracts including diagnostics checks, shut down labour and planned maintenance can be arranged and tailored to each customer's individual requirements to reduce the potential for failure and downtime, allowing customers to continue with their work with minimal disruption.
To support the service further, customers are able to book and track their service jobs online using the Job Manager portal on their desktop or the Job Manager app on their mobile device. Real time status updates are provided to the customer from the initial call out right through to the job being completed, with ETA's given throughout and full documentation once the job is complete, as well as before and after photos. Barcoded labels are secured to every hose assembly fitted by our engineers with a unique serial number. Hydraquip are the only national on site hose company to allow customers to use this serial number to search for details of previous jobs, providing them with a totally transparent parts list.
To register for Job Manager simply click here to submit your details.