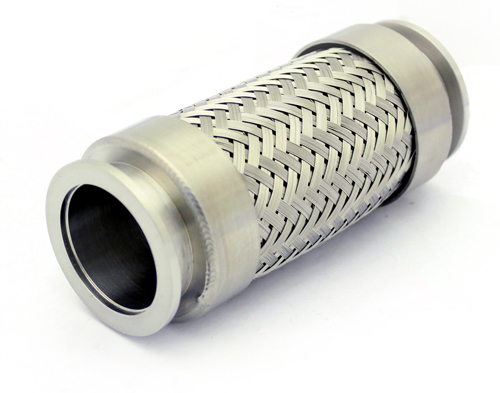 In an industry where cleanliness, precision and quality are paramount, Hydraquip's 316L Stainless Steel ultra high vacuum hoses meets this criteria along with a range of industry standard and specialist design flanges and connections to suit the hose. This particular ultra high vacuum hose is manufactured with convolutions formed in such a way that the hose will not collapse under extreme vacuum whilst still meeting the ability to flex and compensate for any movement.
All KF/CF/ISO fittings are available. Ultra high vacuum hoses are individually tested using a helium mass spectrometer leak detector to sensitivity better than 1 x 10-9 mbar l/sec ensuring that any assembly destined for this industry is 100% tested before it leaves the factory and giving customers the confidence of a leak free connection.
Ultra high vacuum hose assemblies are available in bore sizes from ¼" up to 8", with a wide range of end connections available in a choice of either mild steel or stainless steel such as threaded males and females, fixed and swivel flanges, cam fittings and adaptors.
As quality is of top priority with any hose order, all of Hydraquip's stainless steel metal hoses conform with the flexible hose standard and ISO 10380 / BS 6501 Part 1, 1991, Type B or C Flexibility. In addition to this, 100% of all hoses are fully inspected and tested prior to despatch to confirm that each hose is fit for purpose before being installed. Hydraquip are also ISO 9001 : 2008 approved and work to this quality system to continually seek improvements to their systems and overall improve customer satisfaction.