Established in 1989 with its customer base mainly fluid power industries at this time, Hydraquip began its venture into the Braided Rubber Hose manufacturing in 1993 due to a local Power Shower manufacturer's need for braided hoses. As this demand for bespoke assemblies grew the Braided Hose Division began, now the largest UK manufacturer of bespoke braided hose assemblies which are available from Hydraquip on a made to measure service. One of Hydraquip's most popular ranges from their broad spectrum is its choice of Flexible Tap Connectors which are available in Standard, WRAS Approved and PEX, with a choice of standard, push fit and Elegant end connections.  Flexible Tap Connectors are highly stocked items which can be used for taps, sinks, bathrooms and more.
Types Of Flexible Tap Connectors
Our most popular style of Flexible Tap Connectors, Standard and WRAS, are available in a wide variety of sizes and lengths and can withstand working temperatures of up to 70 degrees. Both types of hoses are made from an EPDM Rubber, however for applications where potable water is involved, our WRAS approved Tap Flexible range offers a smoother EPDM bore to lessen the build up of bacteria and provide cleaner water to drink, which have become easily recognisable due to the red fleck in the braiding. Both types of Flexible Tap Connectors also have a 304 Stainless Steel Overbraid. These are offered in 8, 10 and 13mm bore sizes with lengths starting at 300mm and going up to 900mm. Our end connections include the traditional such as threaded and compression fittings, as well as pushfit connections, available in black or grey plastic or brass, which allow reduced installation time and easy disconnection. In the occasion that our Flexible Tap Connectors range is missing a specification that you require such as bore size or length, this can be manufactured for you through our made to measure service of braided hoses.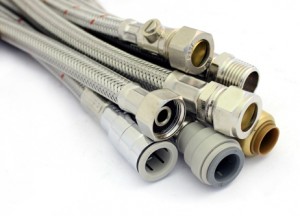 Furthermore, in environments such as hospitals where rubber may not be accepted, our PEX tap flexibles are WRAS approved with a plastic lining with the same flexibility as standard Tap Flexibles and are also purchasable in a number of sizes and lengths.
Additionally, for when pipework is visible and aesthetics is an important aspect of the installation, Hydraquip's Elegant push fittings, designed for mid to high end users, are finished in deep chrome to complement all instalments, also accessible in many specifications.
With over a million combinations of tap connectors, Hydraquip's off the shelf items and can be with you in a short space of time. Commercial Director Geoff Kelley spoke of this range 'Large stocks are held of the most popular sizes for immediate despatch with non standard tap flexibles manufactured to order and available on short lead times.'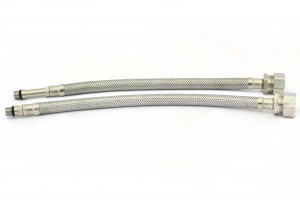 Of course, Hydraquip's range of flexible hoses does not end here and are not only limited to Tap Flexibles. We also offer Building Services hoses which can be manufactured as a made to measure service with bore sizes of up to 2″ and lengths to suit your requirements. Our EPDM Rubber Building Services Hoses can withstand a maximum working temperature of 110oC and are suitable for many applications such as fan coils, heating, plumbing and anti vibration. For applications which require a higher working temperature of pressure, our Stainless Steel Building Service hoses are accessible for usage up to 600oC and 50 bar.
Contact the Braided Hose Division on t: 0845 260 4334 or email [email protected]