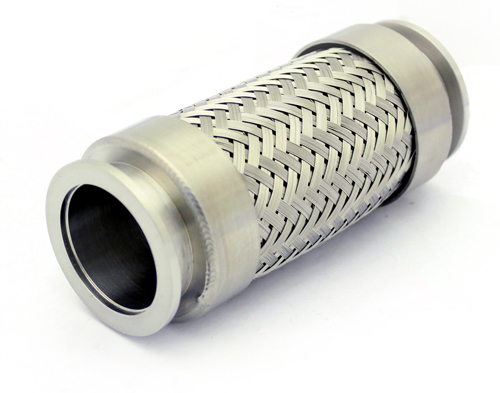 Since its formation in 2010, Hydraquip's Metal Hose Division has become one of the UK's leading suppliers of metal hose assemblies manufacturing high quality products to a diverse range of customers in the UK and overseas. Hydraquip's knowledgeable and skilful team are able to offer full technical support, CAD design, bespoke testing and specialised welding as well as the ability to design and manufacture bespoke fittings for specific applications ensuring that every requirement is fulfilled or exceeded.
Hydraquip's metal hoses assemblies are suitable for a variety of applications involving extreme working parameters, temperatures of between -269°C and + 750°C and working pressures in excess of 300 Bar. Some typical applications/uses include heating and ventilation, building services, gas, steam, vacuum, chemical, petro-chemical, and applications involving vibrations and misalignment of pipe work or movements.
These hose assemblies consist of a convoluted stainless steel core 321 or 316L and the choice of hydro formed or mechanically formed hose, available as unbraided, or with a single or double stainless steel 304 braided finish, depending on the pressure/temperature involved, offering a resistant and durable solution whilst allowing for a life expectancy of in excess of 25 years, dependant on the working conditions involved.
The Metal Hose Division offer both stock and made to measure metallic hose assemblies. Custom stainless steel hose assemblies are available in bore sizes from ¼" up to 8", with a wide range of end connections available in a choice of either mild steel or stainless steel such as threaded males and females, fixed and swivel flanges, cam fittings and adaptors.
Loose hose and fittings are available for hose trade customers who have in-house facilities to manufacture their own assemblies or when a quick turnaround is required, Hydraquip can offer assemblies from its  off the shelf standard range in sizes from ¼" to 2" which are available for immediate despatch.
Furthermore, Hydraquip's Metal Hose Division  also offer a standard range of assemblies for use in the building services industry/Catering Gas hoses BS 669 Pt 2,  Solar hose & fittings, PTFE,  and Stainless Steel Bellows.
Metal Hose Standards
As quality is of top priority with any hose order, all of Hydraquip's hoses conform with the flexible hose standard and ISO 10380 / BS 6501 Part 1, 1991, Type B or C Flexibility. In addition to this, 100% of all hoses are fully inspected and tested prior to despatch to confirm that each hose is fit for purpose before being installed. Hydraquip are also ISO 9001 : 2008 approved and work to this quality system to continually seek improvements to their systems and overall improve customer satisfaction.
Director David Callaghan spoke of the Metal Hose Division, "Here at Hydraquip Metal hose Division we are focused on making sure we provide you with the very best possible service with the highest level of quality, we will help you get the correct hose to suit your specific application and work with you continually to build on our working relationship. Please feel free to contact me directly or any member of our team who will be happy to take your enquiry and start working with you to resolve your specific needs."
For more technical information on the range of products that Hydraquip can offer, contact the extremely knowledgeable sales team at Bolton on T: 0845 260 4336 or email: [email protected].