BESPOKE HYDRAULIC POWER UNIT DESIGNED & BUILT FOR ROCK MIXING PLANT
• Hydraulic Power Unit Scheduled For Installation Later This Year
• Custom Built To Customer's Requirements For High Efficiency
• Power Matching System To Reduce Running Costs and Wasted Energy

PUBLISHED BY: Amelia Cregan PUBLISHED: 16th April 2019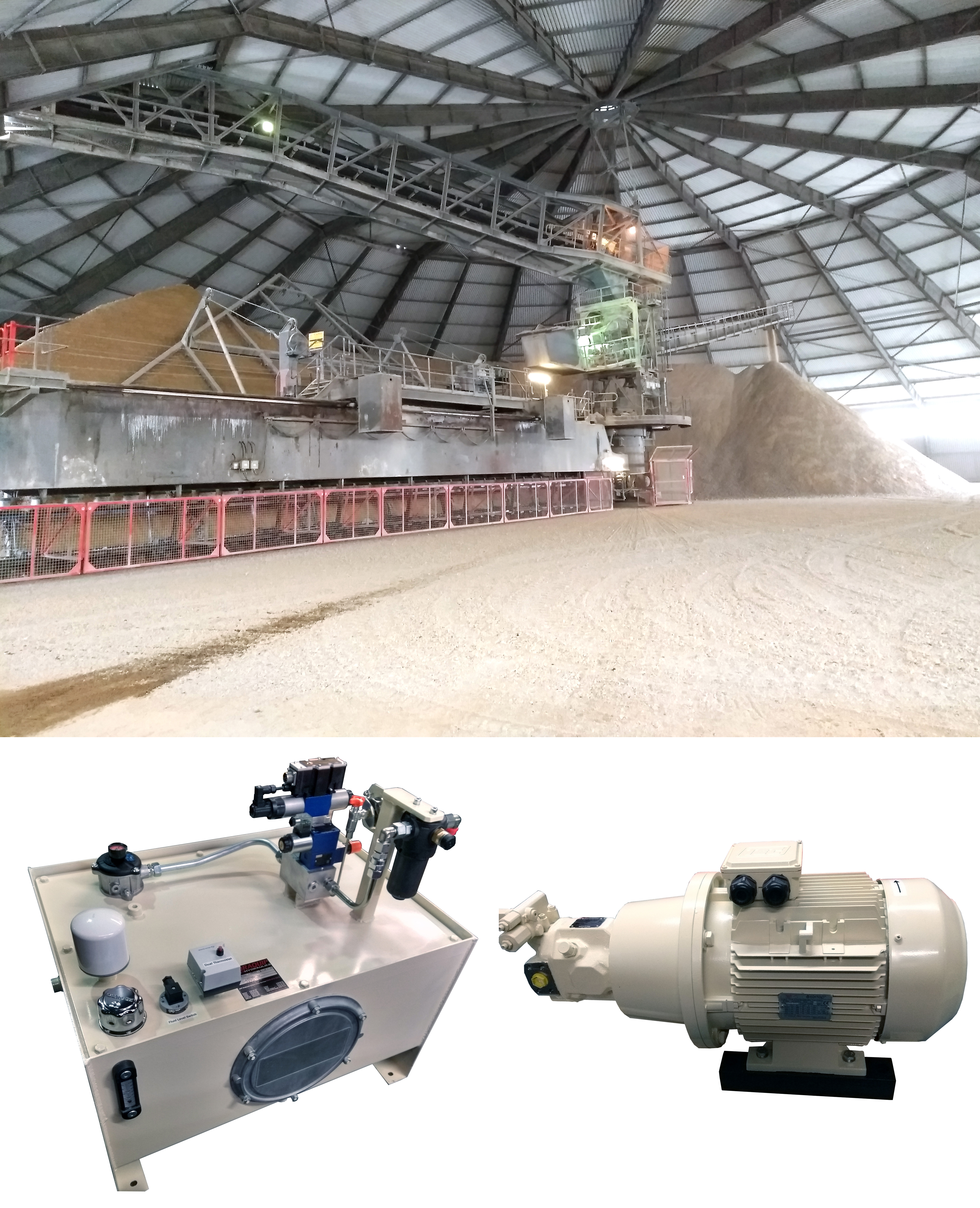 When the UK's leading manufacturer of interior lining systems required a replacement hydraulic power unit, Hydraquip Hose & Hydraulics were commissioned to design and build a new system. The existing system was overheating and the electrical system was no longer functioning correctly causing the system to be operated manually rather than automatically, therefore Hydraquip's engineers have designed a solution to suit their requirements.
The power unit is used in a Rock Mixing Plant where typically different types of rock are mixed together on a conveyor system, known as homogenising, and then stacked. The hydraulics within the machine ensures the conveyor remains at the correct height above the mix as it grows and then fills the room by slowly rotating. The new system has been created with efficiency and functionality in mind, a Rexroth A10VSO variable piston pump with power matching controls has been incorporated. This pump was selected due to its high efficiency and Hydraquip's engineers incorporated a power matching system which ensures only the power required is used to operate the system resulting in reduced running costs and wasted energy. This combined with a larger reservoir removes the need for a cooler and will ensure the system operates at a satisfactory temperature. The main control valve was achieved with a Rexroth 4WREE 4-20mA proportional directional valve working in an electrical closed loop with a magic eye, ensuring different materials are mixed together and levelled correctly within the mixing plant.
The HPU is scheduled for installation and commissioning later this year with the finishing touches currently being made to the design and build of the unit. Every job has unique requirements and with the expertise of Hydraquip's staff, customers can be confident that the most beneficial solution will be found. This hydraulic power unit consists of several functions such as a 6 micron pressure and return filtration system which are used to keep the hydraulic fluid clean and free from contaminants. A large 3 micron breather was selected as an essential component due to the dusty atmosphere the machine will be exposed to, the breather prevents contaminants in the surrounding air from entering the reservoir. A removable steel cover is installed on top of the reservoir to protect the hydraulic components from dust and damage. A minimum fluid level switch and maximum temperature switch was also installed to allow for remote monitoring and operation of the system.
The existing cylinder will also benefit from being serviced and replaced by Hydraquip's Engineering Division to ensure every part is in full working order. Various Manuli hydraulic hose assemblies are being manufactured by Hydraquip for this project as well as additional steel pipework and hosing at the time of installation.