HYDRAQUIP HOSE AND HYDRAULICS AWARDED NATIONAL CONTRACT BY RIWAL UK
• Hydraquip A Sole Supplier Of All Of Riwal UK's Hydraulic Requirements
• Jeff Coulson, Steve Tomkins & Jason King Worked Closely With Riwal UK
• Hydraquip Attended Grand Opening Of Riwal UK's New Facility in Hemel Hempstead

PUBLISHED BY: Rabs Atwal PUBLISHED: 26th July 2019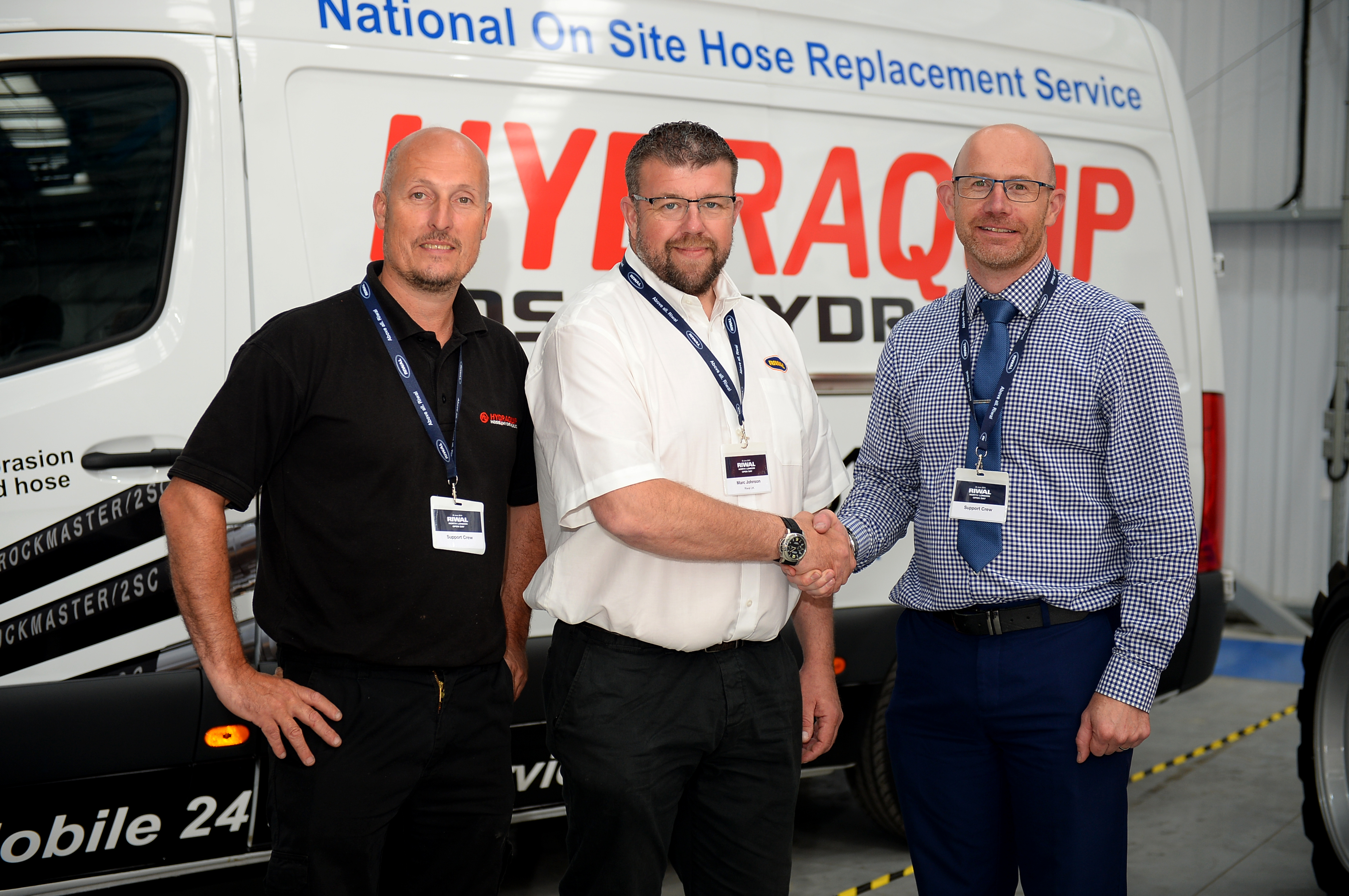 Hydraquip Hose & Hydraulics is the UK's Largest On Site Hose Replacement Service Provider. The company has seen year on year growth as it continues to expand its services, fleet and sales presence across the UK.
Over the years, Hydraquip have won many tenders as a result of their national coverage, product sourcing and new technologies to ensure an overall improved service to their customers. One of the most recent contracts awarded this week was by Riwal UK to Hydraquip Hose & Hydraulics as a sole supplier of all their hydraulic requirements.
Hydraquip's National Mobile Sales Manager Jeff Coulson and Area Managers Steve Tomkins and Jason King worked closely with Riwal UK's senior management team including National Technical Manager, Marc Johnson to ensure all aspects of the tender were covered with a structure to ensure the highest levels of service are provided efficiently alongside Riwal UK's requirements. The tender was awarded on the primary basis of the level and quality of service Hydraquip Hose & Hydraulics can deliver with their industry leading IT systems, Job Manager app and online booking and tracking system. This provides a history of job details supported by photos and videos leading the way in providing minimum paperwork for their customers and assurance that all jobs are carried out with the highest levels of service. Area Manager Tomkins said, "We're delighted to have been awarded this contract and have gained an opportunity to support Riwal UK at a time where they have aggressive growth plans in line with their up and coming projects. Jointly we are very happy to build on our company's relationship and look forward to working very closely together to ensure that Riwal UK's own customers' experience is always first class."
As a sole supplier of hydraulic requirements to Riwal UK, Hydraquip Hose & Hydraulics were honoured to attend the grand opening of Riwal UK's new facility at Hemel Hempstead, located just off the M1 motorway. Riwal UK at Hemel Hempstead has the capacity to hold 700 machines along with the company's national customer service centre and hire desk.
Both companies, Hydraquip Hose and Hydraulics and Riwal UK share a similar vision, continuous investment into their technologies with pioneering phone and web based applications to improve customer experiences. National Sales Manager Coulson added, "It is great to see the good synergy between two very ambitious and growing companies."
Further information and references can be found at:
http://jobmanager.hydraquip.co.uk/job-tracker.aspx
http://hydraquip.co.uk/hose-hydraulics-division/national-247-on-site-hose-service/
https://www.riwal.com Hire Desk 0844 335 2993