HYDRAQUIP DUNDEE, 2ND BRANCH OPENS IN SCOTLAND
Hydraquip Offering Repairs in Dundee and the surrounding areas, Fife, Perth and Falkirk.

Dave Berry Joins As Branch Manager From Pirtek Dundee

Hydraquip Dundee Benefits From A Central Geographic Location
PUBLISHED BY: Rabs Atwal   PUBLISHED: 2nd November 2016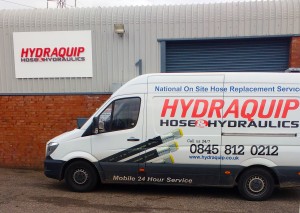 The thriving hydraulics and engineering specialist Hydraquip Hose & Hydraulics opens in Dundee, venturing into a new segment of the UK, Scotland.
Hydraquip Dundee based on Larch Court, Myrekirk Road benefits from a central geographic location, with 90% of Scotland within a 90 minute drive and with excellent access links to the Kingsway and A90.
Operating from a 2,000 sq foot premises, Hydraquip Dundee continues the group's aggressive expansion plans which saw the opening of three new branches earlier this year in Cannock, Manchester and Aberdeen. Plans to open a further two new branches is currently underway to further strengthen Hydraquip's presence, making it the fastest growing hydraulics companies in the UK.
Dave Berry joins as Branch Manager after working for Pirtek Slough and Pirtek Dundee for a total of eleven years. He brings a wealth of industry experience along with a good mix of ambitious time served hydraulic engineers to the team. Berry states, "It has truly been a fantastic opportunity being involved in the setup of a new branch." Having started with Hydraquip on the 1st August 2016, no time was wasted in arranging plans to open a new branch in Dundee. Berry adds, "Not so long ago I approached Duncan and five months on we are opening a new branch. Having the support of those who believe in your ideas and have faith in you as a person empowers you to offer the best service possible".
Hydraquip Dundee will strengthen the group's 24/7 National On Site Hydraulic Hose Repair Network as it offers hydraulic repairs in Dundee and the surrounding areas, Fife, Perth and Falkirk. Working alongside Hydraquip Aberdeen, Hydraquip Dundee will offer significant improvements in their response times across Scotland. With three hydraulic hose engineers operating within the Dundee area, Hydraquip are looking to grow its network of engineers to support the continued demands of its customers.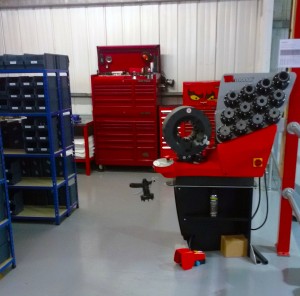 The new Dundee branch offers a comprehensive range of over 50,000+ fluid power components including pneumatic components, industrial hose and fittings, hydraulic hose and fittings, quick release couplings, hose reels, tube, valves and pumps, with comprehensive stocks of hydraulic and engine oils, including oil dispensing equipment. Many of these items are available over the counter or delivered to you within 24 hours. In addition to this, the new fully kitted hydraulic trade counter offers an instant one to one service, the in house resources allow Hydraquip to provide an over the counter service to customers requiring a pattern hose assembly manufactured whilst they wait, with dedicated assembly production facilities which allow the branch to manufacture a one off hydraulic hose or high volumes of hydraulic hose assemblies.
Hydraquip Hose & Hydraulics will continue to focus on their ongoing network expansion plans and are actively seeking time served hydraulic hose engineers. For further information contact Managing Director Duncan MacBain via email [email protected]