MAJOR ACHIEVEMENT FOR KARTING FOR HEROES EVENT ORGANISED BY HYDRAQUIP
Hydraquip's Karting for Heroes Event Honoured With The Hero Award By Help For Heroes 

Help For Heroes Recognises Hydraquip For Its Fundraising Efforts

3Hrs Annual Karting Event Held At Buckmore Park 

Karting For Heroes 17 Held On Saturday 6th May
PUBLISHED BY: Geoff Kelley   PUBLISHED: 18th October 2016
Friday 14th October 2016 was a very special day in the history of Karting for Heroes, an event organised by Hydraquip. A testament to the event and everyone who has supported it since 2010, both on and off the circuit.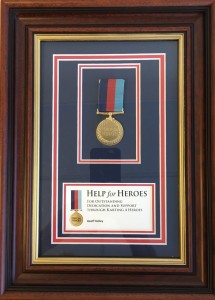 "The Hero Awards began in 2010 to recognise those who had gone 'above and beyond' for the charity. Not necessarily based on the amount of money raised, the Awards recognise commitment and dedication to the cause. In previous years, members of the charity have nominated individuals, teams, and businesses for their outstanding achievements. In 2015 the opportunity for the public to submit nominations for three awards was also introduced. The Co-Founders select the winners from the list of nominees, and those selected are presented with a Hero Award at a very special ceremony held annually in October. We value the Hero Awards as a chance to sincerely show our appreciation to our most extraordinary supporters, as well as an opportunity for the winners to inspire others."  Help for Heroes
Help for Heroes is one of the UK's most successful and influential charities which receives amazing support from all walks of life across the UK and overseas with hundreds of events held to help raise funds in support of our wounded Service Personnel. From the many events a small selection is chosen annually to receive additional recognition in the form of a Help for Heroes Hero Award. This year Hydraquip's Karting for Heroes event was honoured to be amongst those that were nominated.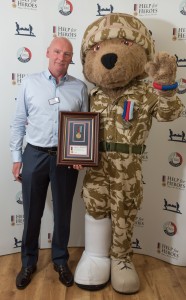 Held at Tedworth House, the Help for Heroes Recovery Centre, near Salisbury, approximately 30 nominees were in attendance to receive their award in various categories from the charity. Awards were presented by H4H Ambassadors who had themselves received the support of the charity in various ways. Recipients ranged from individual fundraisers right up to prestigious high street brands who had shown support for H4H.
Collecting the award for 'Outstanding Dedication and Support through Karting for Heroes' organiser Geoff Kelley from Hydraquip said, "It was a great honour to even be considered for a nomination never mind becoming an actual recipient of a Hero Award, especially when you are in such amazing company and hear of some of the tremendous things that individuals and groups have done in support of H4H. To say it was very humbling that our fundraising efforts had been considered of being worthy to be included in this roll of honour is an understatement."
He added "This award is a massive Thank You to everyone who has supported Karting for Heroes over the years and a great honour for me personally to be able to collect the award on behalf of absolutely everyone who has contributed to Karting for Heroes. Without all of your support and enthusiasm none of it would have been possible."
Karting for Heroes '17 will be held on Saturday 6th May 2017 at Buckmore Park in Kent. Entries are now being accepted. Full event information is available on www.kartingforheroes.com