HYDRAQUIP PURCHASE THE MOBILE VAN ASSETS OF SH SERVICE HYDRAULICS
SH Service Hydraulics Enters Administration On The 19th August

The Hydraquip Group Purchase The Mobile Van 

Assets

 On The 23rd August 

Hydraquip Offer Instant Accounts To Existing SH Service Hydraulic Customers

Hydraquip Will Continue To Offer A Mobile Hose Repair Service To SH Service Hydraulic Customers
PUBLISHED BY: Rabs Atwal    PUBLISHED: 23rd August 2016

Established in 1975 SH Service Hydraulics of Smethwick, West Midlands, went into administration on Friday 19th of August 2016 and as a result has ceased trading.
Hydraquip Hose & Hydraulics entered an agreement on Tuesday 23rd August 2016 which sees the group secure the assets of SH Service Hydraulics, which includes their hydraulic mobile service vehicles, including cutting & assembly equipment and the main T: 0800 085 4477 business operating number.
The key main emphasis is for Hydraquip to continue to provide a service and assistance to existing SH Service Hydraulic customers. The group will provide an instant account up to the value of £500 for these customers to avoid any disruption. Customers requiring accounts with a larger credit limit, please click here to apply for a credit account.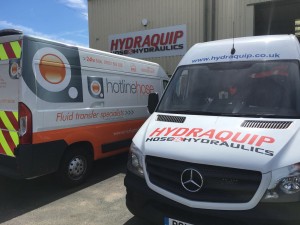 Hydraquip Hose & Hydraulics will continue to offer all former SH Service Hydraulics customers with a 24 hour on site hydraulic hose repair service on a local and national basis.
Hydraquip have 15 engineers in the Midlands today ready and able to support SH Service Hydraulics customers locally.
Nationally, The Hydraquip Group now operate from across 22 branches strategically placed across the UK, along with 105 hydraulic mobile service repair vehicles, with a target to reach 200 vehicles by the year 2020.  Hydraquip are fully focused on growing its national 24/7 mobile hose repair service whilst continuously looking at methods of improving the service for their customers, which saw the launch of Job Manager which is targeted at providing customers with an efficient and effective way of booking and tracking their service jobs online. The Job Manager feature provides real time status updates from the start of the job right through to the completion, with SMS service job updates, instant electronic job sheets, before and after job site pictures and much more. Click here to watch and see how Job Manger could help your business.
As part as the company's expansion plans, Hydraquip are looking at growing their team of experienced hydraulic mobile engineers. As an incentive, the Hydraquip Group are rewarding their customers with a £1000 credit for any experienced hydraulic engineers who they recommend that are employed by Hydraquip. For further information please visit http://hydraquip.co.uk/reward/
For further information on the purchase of these assets, please email Managing Director Duncan MacBain on E: [email protected]