SIXTH HOSE & HYDRAULICS BRANCH OPENS THIS YEAR. HYDRAQUIP LLANDUDNO JUNCTION, NORTH WALES.
6th Hydraquip Hose & Hydraulics Branch Opens In 2015

Hydraquip Llandudno Junction Situated On The Conwy Industrial Estate

Hydraquip Team Joins From Hydroscand Llandudno Junction

On Site Hose Repair Service In Wales
PUBLISHED BY: Amelia Cregan  PUBLISHED: 18th November 2015
Hydraquip Hose & Hydraulics are pleased to announce their 6th hydraulic trade counter branch to open this year in Llandudno Junction, North Wales. Situated on the popular industrial estate in Conwy, the branch will provide additional coverage in Wales alongside Hydraquip Wrexham which opened just 18 months ago.
Hydraquip Llandudno Junction's Branch Manager Mark Thomas will be supported by Elfyn Roberts as a Sales Manager, Louis Slade as Internal Sales/Warehouse Assistant and Lee Newton as a Hydraulic Service Engineer. Mark, Elfyn, Lee & Louis all joined Hydraquip together, having previously worked at the Hydroscand Llandudno Junction branch. The opportunity arose for these four after discussions with Hydraquip's Managing Director Duncan MacBain and Regional Director Fintan Ennis to form a team for the new Hydraquip Llandudno Junction branch. Mark Thomas, branch manager of Hydraquip says, "The knowledge and experience of the team at Llandudno Junction will really help to strengthen Hydraquip's presence in the area and drive the company forward. I am looking forward to growing the Llandudno Junction customer base whilst providing an excellent on site hose repair service in our area." Looking back on their time at Hydroscand and forward towards their new journey ahead with Hydraquip, Elfyn adds, "Being able to go out with the directors to choose a building, for them to listen to and discuss my ideas which then go onto influencing the business decisions, really made me feel part of the team. In my previous employments I have always had seven odd people between myself and the owner, but with Hydraquip I am in direct communication with Duncan. The company is so professional and focussed, with each depot having their own areas of expertise as well as offering the products and services of the group."
The hydraulic service engineers based at Hydraquip Llandudno Junction will operate a 24/7 on site hose repair service in conjunction with the rest of the Hydraquip Group in Conwy, Denbighshire, Flintshire, Anglesey, Gwynedd and the surrounding areas, to support the company's national coverage. Additionally, with two Hydraquip branches in Wales, the teams will work together to offer hydraulic repairs throughout the whole country including South Wales. The experienced and trained engineers offer a complete solution in the event of a breakdown with hydraulic fault finding, installations, equipment repair and service maintenance contracts tailored to suit each customer's requirements with 99% of jobs completed there and then.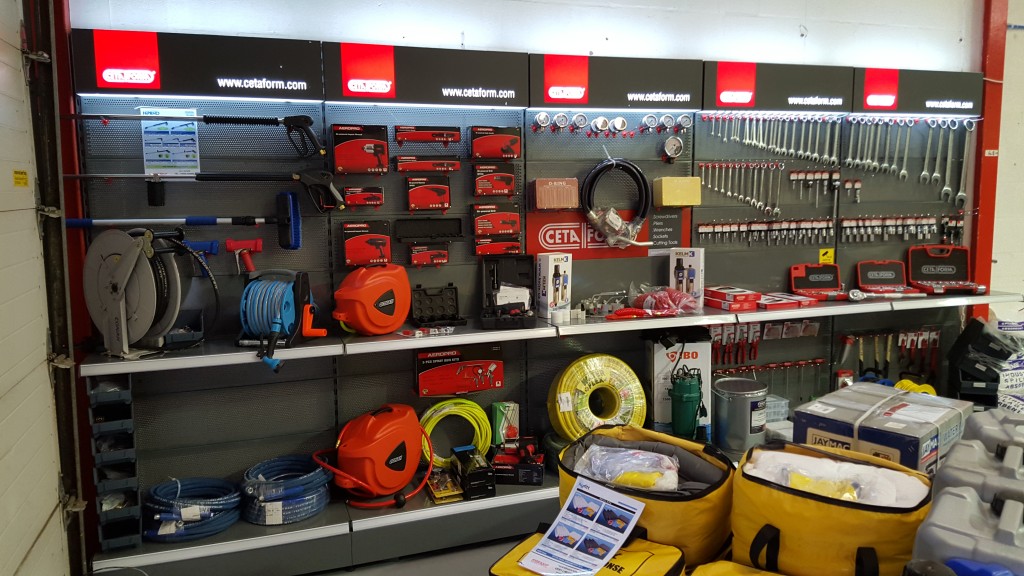 Hydraquip Llandudno Junction will offer an extensive range of 50,000+ fluid power products from their trade counter available immediately or within 24 hours including hose & fittings, adaptors, hose reels, valves, pneumatic components, pumps and hydraulic and engine oils. Hydraquip's official distributorships of premium brands such as Aeroquip, Bosch Rexroth and Enerpac have also allowed them to add high quality and high performance products to their product range. Together with this, with the in house facilities at Hydraquip Llandudno Junction the branch can provide a 'whilst you wait' service with hydraulic hose assemblies being manufactured to pattern instantly.
Hydraquip are looking to expand their on site hose repair team in Wales. If you are interested in joining Hydraquip please contact Regional Director Fintan Ennis on E: [email protected]
Hydraquip Hose & Hydraulics Llandudno Junction
Unit 12A Ffordd Maelgwyn, Tremarl Industrial Estate, Llandudno Junction, Gwynedd, LL31 9PN
T: 01492 449 448 F: 0845 496 0719 E: [email protected]