TWO ADDITIONAL ENGINEERS COMPLETE 'THE HYDRAQUIP WAY' TRAINING PROGRAMME
• Marcus Payne and Chris Green Complete 'The Hydraquip Way'
• 6 Weeks On Site Training With Support Of Midlands Area Manager Steve Tomkins
• Strengthening Hydraquip's Nationwide Presence & On Site Hose Repair Service

PUBLISHED BY: Amelia Cregan   PUBLISHED: 18th February 2019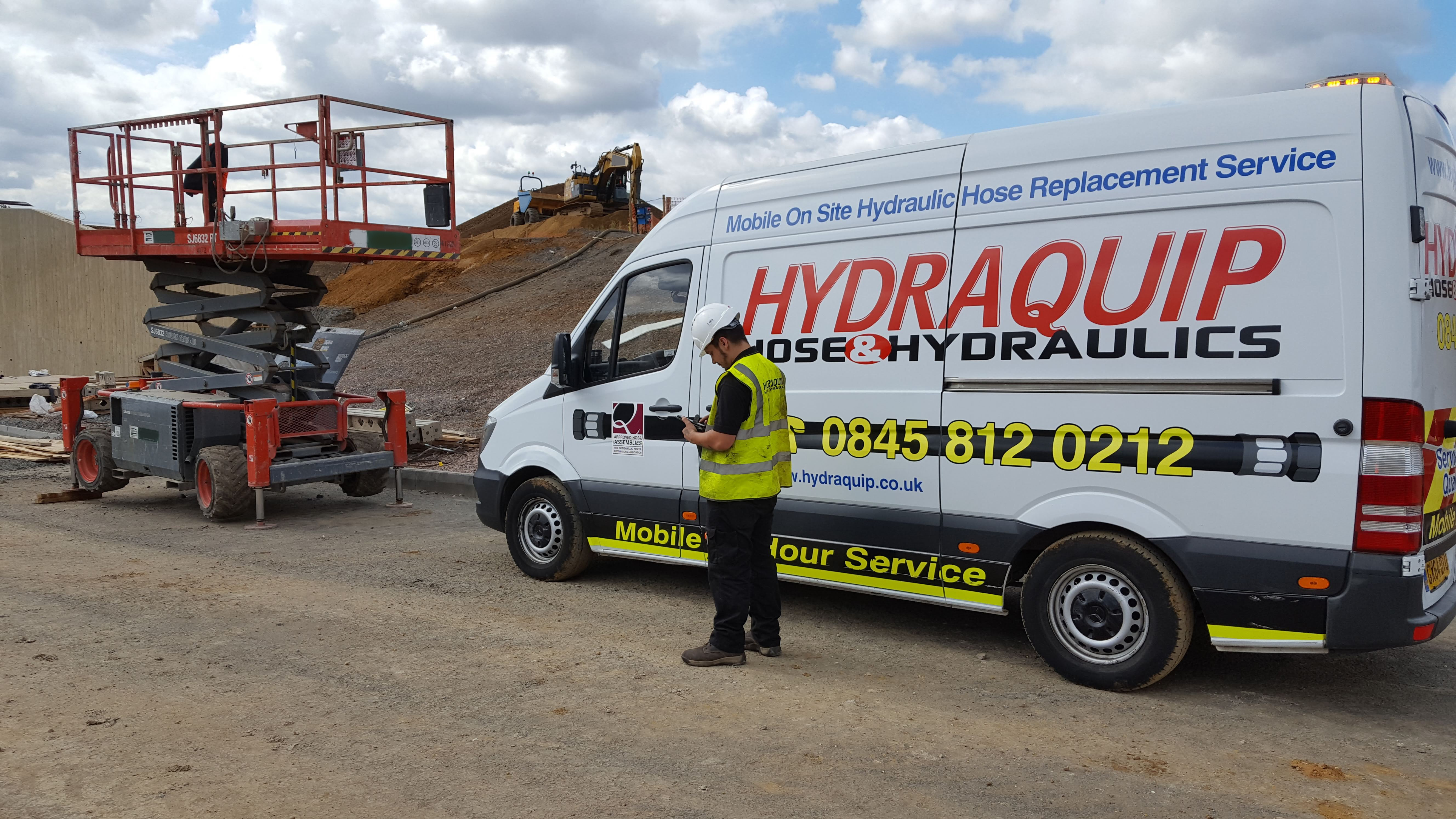 As the UK's largest independent provider of on site hydraulic hose repairs, Hydraquip are proud to operate a nationwide service with over 150 branded service vans complete with engineers who are fully trained and qualified to industry standards. The introduction of "The Hydraquip Way" training programme has seen an improved structure of hydraulic training within the group. Two additional engineers have completed their training with the support of Hydraquip's Midlands Area Manager Steve Tomkins and are now fully trained and qualified engineers strengthening Hydraquip's presence.
Marcus Payne joined the Hydraquip group in July 2018 having previously worked as a vehicle mechanic for five years plus a further 18 months working on heavy plant machinery. Initially Marcus visited the Hydraquip branch located at Strood to complete his induction with Area Mobile Manager Mark Neale where he was introduced to Hydraquip's working guidelines and procedures, as well as being given an insight into what his day to day job will involve. Marcus was provided with the tools and PPE he will require whilst working on site and began his online training.
Marcus then worked alongside Steve Tomkins for 4 and a half weeks where he was involved in the practical aspects of completing service jobs. This included some aspects of the sales and promotional responsibilities, thread identification, manufacturing hydraulic hose assemblies, understanding the functionality of hydraulic machinery and identifying faults efficiently. All of this was completed working in line with "The Hydraquip Way". Marcus recently completed a job which involved manufacturing a Manuli 4SH 1.1/4" hose assembly complete with flange fittings at either end for a Komatsu 470 located at a nearby quarry, the hose was 1.2 metres in length and pressure rated at 350 bar. The original hose was removed, re-manufactured and refitted on site in just over an hour for use on a main boom bucket lift ram.
Marcus uses the Job Manager App on his mobile phone which helps him to learn Hydraquip's part numbers. The app stores details of each job which is completed and communicates with our offices for processing job sheets and final invoices. From job completion, job sheets are sent to our customers within an hour of the engineer leaving site. Additionally, to ensure that the jobs are completed in line with any customer specific requirements the Job Manager App will send prompts highlighting important information to the engineer. During the active job engineers obtain site photos at different stages. These are taken to help with recollecting the original routing of a hose to be certain of the correct position when refitting the new hose should they need to refer back, thus always ensuring both optimum operation and customer satisfaction is achieved. Detailed photos are also taken and provided to the customer to include (but not limited to) the works before and after, machine details, machine, working area and also showing details of the original and new parts.
Chris Green joined the Hydraquip Group in September 2018 having previously worked at Perkins Engines for 9 years. After completing his induction at Hydraquip Strood it was then time for Chris to start his training course on site with Steve Tomkins ensuring that his working standard is in line with "The Hydraquip Way". After 6 weeks Chris had passed all aspects of his training and began working independently on site from his mobile workshop.
Chris recently attended a breakdown at a local waste management park on a Caterpillar D6 Dozer. The machine had been brought to a halt due to a burst blade adjustment ram hose, the original hose was removed, re-manufactured on site and refitted in just over 2 hours. On this particular job the burst hose was in a confined location within the machine. It was exposed to the elements and was buried with mud, clay and debris. Chris' job involved digging out the failed hose prior to gaining access to the securing fittings and once cleared Chris was then able to remove the old hose from the machine. Ensuring a first time fix direct from his van stock a ½" Manuli 4SP hose assembly was manufactured complete with a ½" Manuli 45° ISO/SAE Code 61 flange fitting and a Manuli ORFS female insert. The hose assembly was 1 metre in length and pressure rated at 420 bar.
When complete Chris was able to update the status of the service job on the Job Manager App giving the customer full transparency and a report on the work carried out. Every hose that a Hydraquip engineer manufactures is installed with an asset tag with a unique weatherproof, printed barcode and serial number enabling the customer to view a bill of materials for each completed assembly via a search facility within the Hydraquip database.
To join Hydraquip's ever growing team, please send your CV to [email protected]