Karting For Heroes 2015 For Help For Heroes
PUBLISHED: 1st September 2014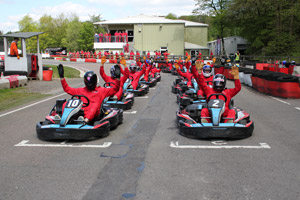 Hydraquip are excited to confirm the running of Karting for Heroes again in 2015. This will be the sixth running of the event which is held in support of the Help for Heroes charity which offers various forms of assistance and support for wounded service men & women from across the UK's armed forces.
Following on from a near sell out event in 2014, next years running will follow the same format plus a little bit more thrown in for good measure. This will take the form of a 3 hour team event for a maximum of 35 teams made up of drivers of all driving abilities, from novices right up to professional drivers. The race will be held at the Buckmore Park Kart Circuit in Chatham Kent, in May which has been the home for Karting for Heroes since the inaugural race in 2010.
Other plans for K4H '15 include the addition of off track attractions to widen the appeal of the event to those who don't fancy racing around with their bum's only inches off the ground.


At time of writing and with the date of the event not yet released 9 teams have already confirmed their entries for next year. Geoff Kelley, event organiser said "Last year's event was our best attended event so far and the feedback we got back was very supportive of the format we had. Taking that into consideration we will be doing the same again in 2015 along with more off track entertainment and attractions. One of these is the K4H After Party which is planned for late evening and will initially be offered to the teams and their supporters." He added "we are working on a number of other ideas for next years event and hope to have most of these confirmed by November (2014)."
Full details of the 2015 event will be revealed at the official K4H '15 Launch in November 2014 with details announced on the K4H website and Twitter account.
CONTACT DETAILS
www.kartingforheroes.com
Organiser and Founder of KARTING for HEROES
Geoff Kelley
Commercial Director HYDRAQUIP Braided Hose Division
Tel 0845 260 4334
Mob 07736 143 423
Email [email protected]
More News…