Hydraquip Exhibiting at Plumbing & Heating Show PHEX Alexandra Palace, London on May 20th – 21st 2014
New product launch
Thousands of plumbing and heating hoses manufactured weekly
Custom made hose assemblies on short lead times
BY: Rabs Atwal     PUBLISHED: 19th May 2014
Hydraquip, a leading UK manufacturer of braided flexible hose assemblies for plumbing and heating applications, are pleased to announce they will be at the inaugural PHEX exhibition at Alexandra Palace, London on May 20th – 21st 2014.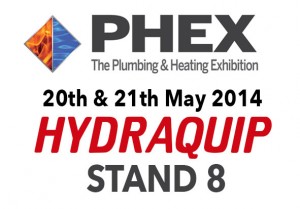 The Braided Hose Division supplies hose solutions to a vast array of customers in many fields of the industry and is a leader in providing bespoke hose assemblies for both the UK and Overseas markets on short lead times alongside carrying extensive stocks of standard flexible hoses which are available for immediate despatch. Producing thousands of plumbing & heating hoses every week, it is likely that without realising it the majority of visitors to the show will be aware of Hydraquip products already with many of the company's clients being household names and many of Hydraquip's customer's projects being major and easily recognisable buildings around the country.
Hydraquip's Commercial Director Geoff Kelley said "The plumbing and heating exhibition at Phex Alexandra Palace will be the launch platform for an exciting new product line, giving users additional choices in specifying the correct product for their projects. It is a few years since we last exhibited at a major show and finding one that suited our needs and that of our customer base proved difficult to find. We had been aware of the success of the PHEX events in the past and with their decision to add a focus on the commercial side at Alexandra Palace we saw it as an ideal opportunity to showcase our products to both old and new customers from around London and the South East." He added "Since 2008 and the recession we have been fortunate that we have continued to grow as a company and found recognition from major manufacturers and installers who have frequently turned to us to find the perfect hose for their application. By keeping the emphasis on quality and avoiding going down the cheap is best route we have proven to our clientele that they can rely on us as a company and also in the products we offer."
Included in the products on show will be hoses that are suitable for use with water, gas, oils, steam, vacuum and chemicals, with compliance to a number of industry standards including WRAS, BSRIA, NHS and Gas standards for many of the assemblies on offer. Complimenting a wide range of hose options, the company offers fittings to suit in a variety of formats and materials including threaded, compression, push fit, stems, flanges and quick connect couplings in brass, stainless and mild steel.
In addition to the standard assemblies for plumbing and heating they will have on show bespoke hose assemblies that they have helped design to solve problems that various customers have encountered and had to get around. With a choice of hose liners including EPDM, PEX, Aquavend, Nitrile and Stainless Steel the company is able to offer a suitable hose for most applications. Visitors will be able to benefit from the expert hose advice on offer during the exhibition from the Hydraquip employees on the stand.
Hydraquip will be on Stand 8 and can be contacted by telephone 0845 260 4334 or email [email protected]
More News…..