Hydraquip are a manufacturer of hydraulic hose assemblies for customers that require an instant supply from a Hydraquip trade counter, at the customers place of work or their operational site. The company also caters for customers who have  scheduled or call off hydraulic hose assembly requirements, including Kanban supply. Each of the company's trade counters carries a comprehensive range of hydraulic hose and fittings with hydraulic hose stocked from DN06 (1/2") up to DN50 (2") with SAE specifications from SAE100R1AT right up to SAE100R15 ensuring all applications can be catered for. These stocks are also tailored for regional demands to ensure customers receive the best possible level of service.
Hydraquip's hydraulic hose range caters  for low, medium and high pressure hose, in single, double and multi spiral, for the most demanding environments and applications.  Hydraquip are stockist of Gates & Manuli hydraulic hose which provide high quality, long lasting, durable and superior performance. The list of Hydraquip's hydraulic hose range is extensive, with specific hoses offered with anti abrasion covering where the working conditions could lead to a premature failure. In addition to the standard rubber covered hose the company offers hoses in a range of thermoplastic with additional protective sleeving and protection available for all of the ranges offered.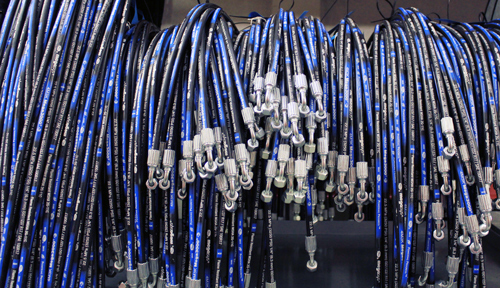 Customers requiring an instant service are welcome to any of Hydraquip's fluid power hydraulic trade counters to have a pattern hose assembly manufactured whilst they wait with an out of hours and emergency service which is operated by Hydraquip's team of trained and qualified on site engineers. With down time and premature failures carrying high financial implications, Hydraquip offer hydraulic hose and fittings manufactured by reputable companies with assemblies manufactured in accordance with the guidelines and standards set by the BFPDA in the manufacture of hydraulic assemblies being adhered to.
Hydraulic Hose Kits
Larger volume users of hydraulic hose assemblies can confidently order their requirements in a way that best suits their individual requirements such as stock orders, call off or scheduled orders or Kanban. Offering an OEM service that is designed to meet the needs of each individual customer, along with the hose assemblies these tailored combinations can include; testing, labelling, bagging or including them into multi components kits. With cost control and reduction being a key part of any manufacturing process the supply of bespoke component kits can help meet these targets with wasted picking time being eradicated from the process with the kits being able to be collected from the stores and delivered direct to the production line.
Complimenting this product range of hose solutions are thousands of hydraulic accessories including; hydraulic adaptors, quick release couplings, hydraulic steel tube, hydraulic compression fittings and pipe clamps, all of which are instantly available to ensure customer's hydraulic breakdowns are dealt with as efficiently as possible and thus keeping the costs and disruption to a minimum. Contact your local Hydraquip branch for more information.