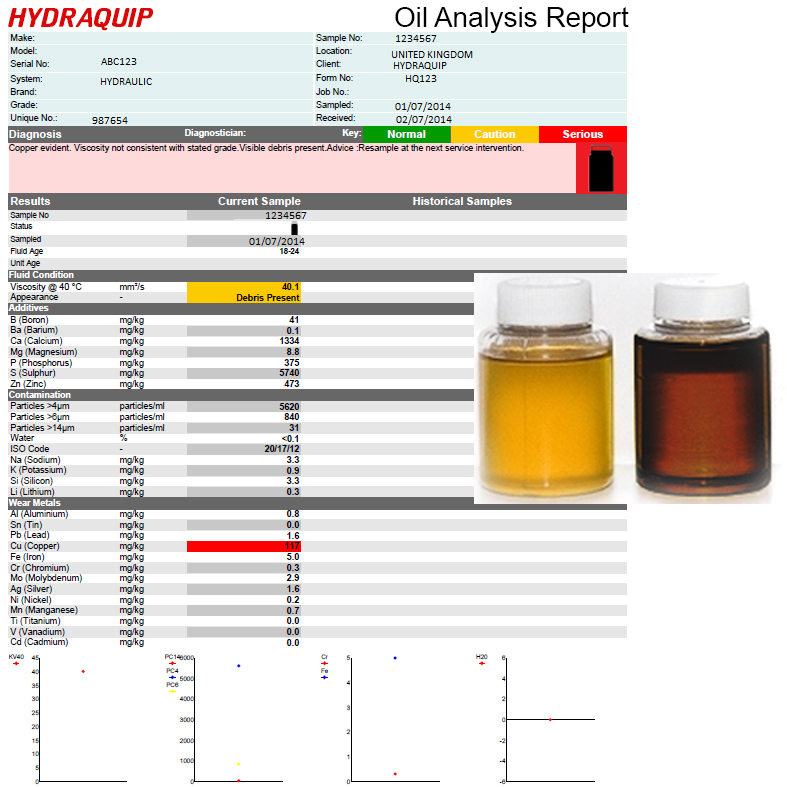 Oil used in hydraulic machinery is often overlooked as a potential for failure. Whilst keeping the oil level at the required level is taken as green the actual quality of the oil is frequently forgotten. With modern hydraulic systems becoming more complicated and advances in technology the individual components are more reliant on the oil being of a high standard to achieve maximum performance with contaminated oil potentially being capable of halting and damaging an expensive system.
The Hydraquip Oil Analysis provides a step, as part of a preventative maintenance program, towards reducing the potential for failure and also in identifying the likely cause of contamination which can allow for an organised response in curing the fault. As many components are bespoke and not off the shelf items any advanced warning will assist keeping downtime to a minimum thus reducing breakdown costs significantly.
The Oil Analysis Sampling procedure involves collection of a sample oil from your hydraulic machinery which is sealed and sent off for testing at our laboratory. The test procedure shows what level of contamination is present with any discoveries helping to lead to finding the cause and in turn a solution for an impending problem.
Oil Analysis Report
Results for an Oil Analysis report are usually available within 4-5 working days, with 2-3 days in pressing circumstances. The Oil Analysis reports are easy to read and understand showing either a normal, caution or serious reading. Contact your local branch for further information.