Hydraquip Are Proud To Be Working In Partnership With And Are An Approved Supplier To Speedy

Speedy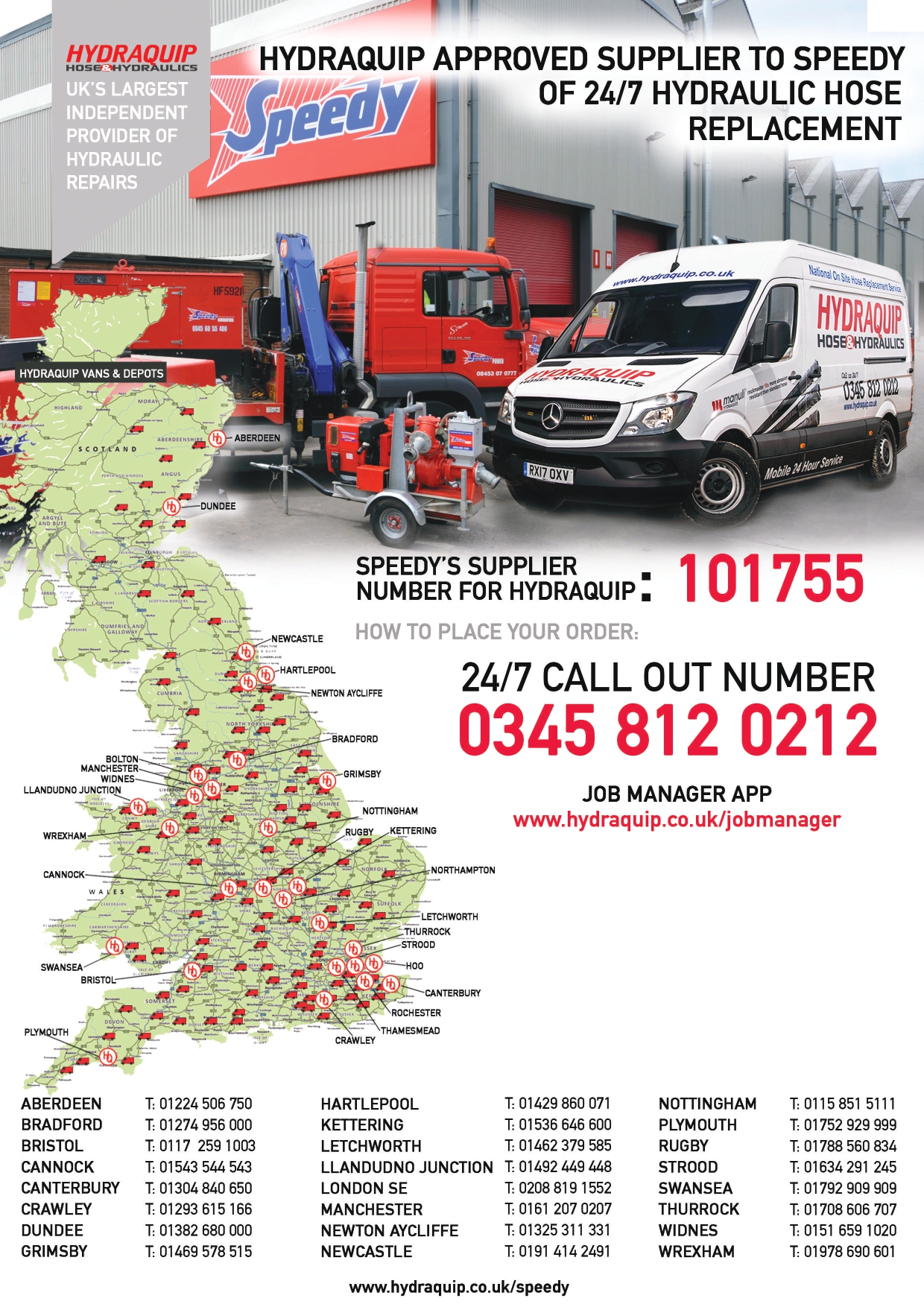 are the UK's leading tools and equipment hire company, offering a wide range of tools, specialist equipment and plant machinery for hire or sale, as well as additional services to support their products such as on site training, inspections and certifications. Hydraquip's national on site hose repair and replacement service is available 24/7 365 days a year to assist with breakdowns on site should they occur.
Speedy have a wide range of machinery and equipment available to hire including lifting equipment, powered access, tools, lighting and plant machinery such as excavators, dumpers, telehandlers, utilities equipment, trailers and rollers. Hydraquip's trained and qualified engineers are able to work in a variety of different industries with mobile workshops fully equipped with the stock and equipment required for their breakdowns. Hydraquip are very often required on site to fix fork lifts, cherry pickers and boom lifts where a hose may have burst and needs to be replaced. Thermoplastic or rubber hydraulic hose assemblies are then custom made within the Hydraquip Sprinter workshops to bespoke lengths with a large choice of end fittings including metric, JIC and BSP.
Manuli Rockmaster 2SN hose is known for its durability and is ten times more abrasion resistant than standard hose. Hydraquip recognise the importance of high quality products which is why the Rockmaster 2SN hose is standard in all of Hydraquip's service vans and trade counters. The hose offers superior abrasion and pressure resistance, high ozone and weather resistance, flame resistance plus an antistatic and antitoxic cover.
Hydraquip currently have 144 hydraulic service engineers based nationwide and are on target to hit their 2020 vision of 200 vans on the roads by the year 2020. As a national company Hydraquip are able to provide hydraulic hose repairs to a network of Speedy's locations with quick turnaround times. Every service job can be fully booked and tracked using Hydraquip's Job Manager portal and app providing customers with honest and realistic ETA's as well as before and after photos of the work completed.