Hydraquip Are Proud To Be Working In Partnership With And Are An Approved Supplier To Toyota Material Handling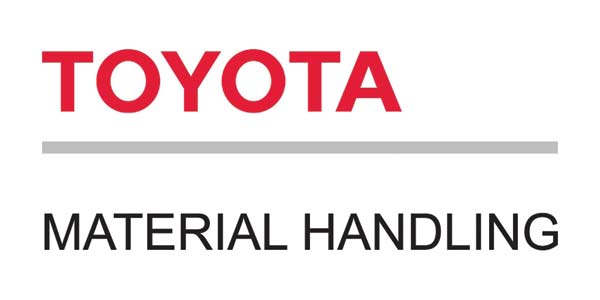 Toyota Material Handling UK offer a national service with local support to customers requiring forklifts and trucks in the manufacturing, retail, warehousing, transport and distribution industries. Customers are offered total business solutions including servicing, parts and truck management as well as operator training and racking solutions.
Trucks are used in every sector and environment, from tow tractors for transporting individual palletised or non-palletised items and simple automated guided vehicles (AGV) to reach trucks for up to 13 metres and bespoke solutions designed to meet individual requirements and maximise efficiency.
Toyota Material Handling offer thousands of trucks to buy or hire to smaller or larger businesses. Most trucks are available for direct delivery within 24 hours on either a short term hire, also available at short notice with flexible rental periods or for a long term rental of up to 7 years with competitive pricing throughout. Smaller businesses are given the option to hire reliable, used Toyota trucks which are fully refurbished in UK centres and conform to the Toyota Production System (TPS) principles for occasional requirements, to support an existing fleet or as a stand by truck. Hydraquip's 24/7 national on site hose service is able to support customers across the UK when a breakdown occurs. Hydraquip have a fleet of mobile on site workshops fully equipped with high quality products meaning that 99% of repairs are completed there and then.
For retail and warehouse environments, Toyota Material Handling offer a range of manual, semi-automated and remote control order pickers and electric or engine powered forklifts with built in safety systems (SAS) for transport and distribution purposes. A variety of options are available including silent hand powered pallet trucks for out of hours deliveries and counterbalance trucks which are suitable for cold storage and distribution at a minimum of 0°C and can be adapted for temperatures down to -35°C. Hydraquip's engineers have the industry training and expertise to accommodate to an extensive range of different industries and provide a solution to individual requirements or notes provided by the customer. No job is too big or too small for Hydraquip's hydraulic service technicians who will ensure the job is completed to the highest standards whilst reducing downtime.
Toyota Material Handling offer their I_Site Truck Management portal to their customers which is available via the app on mobile devices providing them with information on the running of operations, battery monitoring, shock sensors and notifications of events which occur. Hydraquip have also invested in new app technology with their Job Manager portal which can be used on desktops or mobile devices to book and track service jobs online quickly and easy, whilst also receiving live job updates throughout, as well as before and after photos and detailed reports of the job when it is complete.
Toyota's new range of trucks are designed to use alternative energy solutions such as Lithium Ion Technology (Li-ion), Hydrogen Fuel Cell Technology and Hybrid Technology to reduce their impact on the environment and ensure they are pro-active in their approach.
To register for Job Manager simply click here to submit your details or call 0345 812 0212.