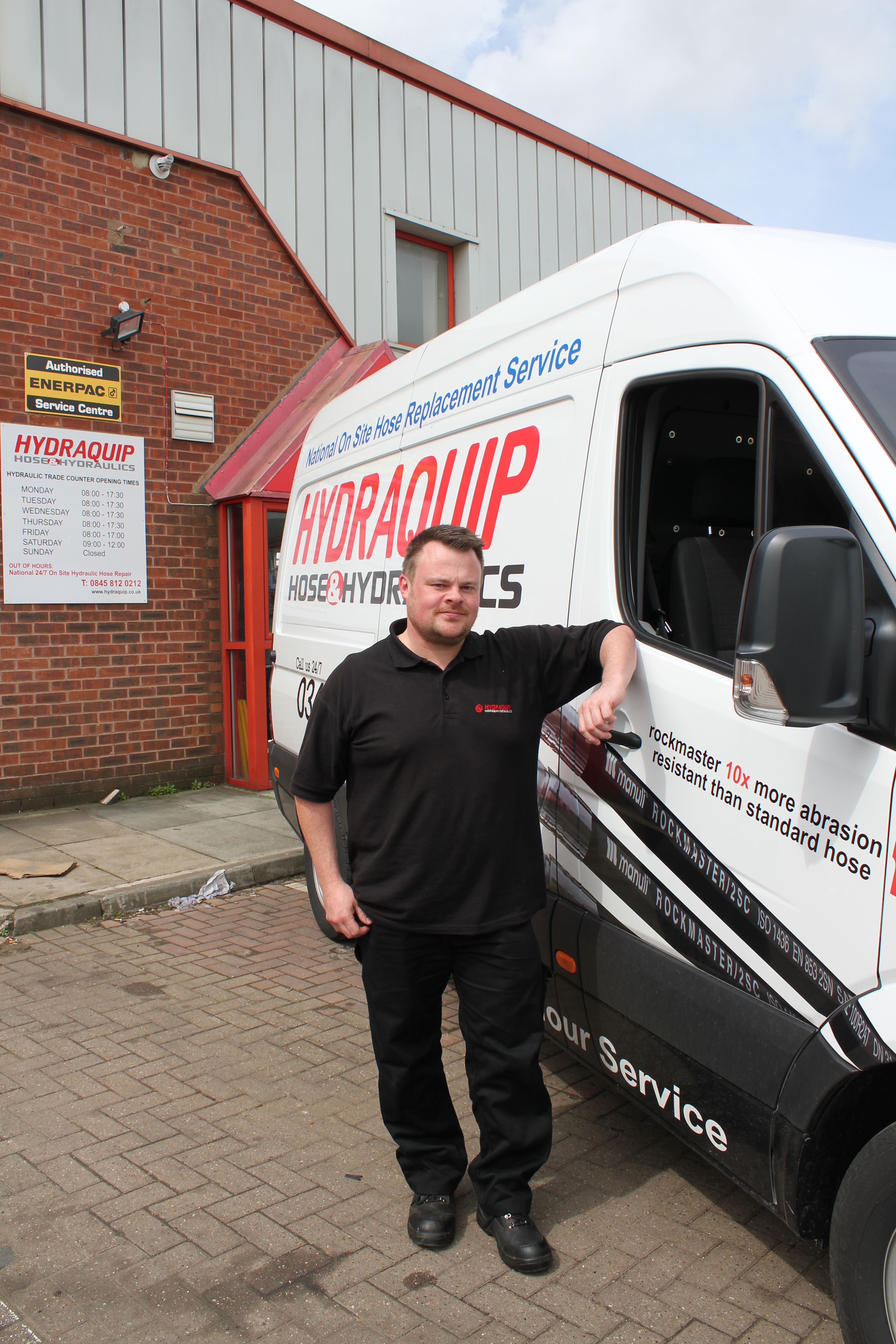 Meet Simon Durose
Hydraulic Service Engineer – Hydraquip Hose & Hydraulics Cannock
It was in 1996 that I joined the hydraulics industry, I was unsure on which field I wanted to work in but when I saw a job advertised with Trelleborg in Ashby, Leicester I decided to apply. I was thrilled to be offered the job and worked as a warehouse assistant. My role involved booking stock in and out, packing orders and organising customer's orders. During my 5 years at Trelleborg I gained industry knowledge and progressed to working on vehicle batteries, tractor tyres, fork truck kits and also manufacturing hydraulic hose assemblies.
My next move was to Caterpillar in Leicester, I had friends who worked there and it sounded like an exciting opportunity. I started out in Caterpillar University where I gained qualifications and engineering degrees. I learned about professional hydraulic hose assemblies and how hydraulic machinery is made and the components involved. I began working on the hose plant production line where I manufactured multi spiral hose for small wheel loaders. I then progressed to manufacturing hydraulic hose assemblies for diggers, attachments and plant machinery too, then installing the hoses onto the machinery, as well as sorting deliveries and stock taking. I worked at Caterpillar for 15 years however I then felt it was time for me to find a new challenge.
I wanted to do something different and be out and about more, so when I saw that James Lister & Sons in Wolverhampton were looking for a mobile engineer I applied. I enjoyed the job as I was working on a larger variety of machinery than I had done previously, and liked that it was always different, I was now on my own and fully responsible for the repair being completed correctly and efficiently. The main two types of hydraulic machinery that I worked on which were new for me were skip lorries and bin lorries. Possibly the most common jobs I worked on were for larger machinery such as big breakers or shears. I would fit two ½" hydraulic hose assemblies with bsp or quick release couplings either end, or 1" multi spiral hoses. I also repaired the bucket on a digger where I manufactured and installed ¼" quick hitch hoses with jic and bsp end fittings. After 2 years at James Lister I was hearing more and more positive feedback about Hydraquip so decided to call their Regional Director, Fintan Ennis. I am now working as a hydraulic service engineer for Hydraquip Hose & Hydraulics in the Dudley area. I am excited to support the company and strengthen their presence and customer base in a new area, I have already got some customers on board with Hydraquip! Hydraquip are a very professional company, from the way they treat their customers to the addition of the Job Manager App which gives customers clear documentation of the work which has been carried out.
Tuesday 22nd May 2018
Meet The Team