Acquisition of Ideal Hose & Safety Ltd, Arnold Hose Ltd & Gamma Hose
From 1/4″ to 12″ Hose Assemblies
Custom Made Hose Assemblies
Technical Support & CAD Design
Hydraquip's Metal Hose Division is one of the UK's leading suppliers of metal hose assemblies manufacturing from their two production plants in Bolton and Northampton
The operation is headed by the Director of the Metal Hose Division, David Callaghan who has worked within the industry for 28 years. David brings a wealth of experience and knowledge which has proven to be fundamental with a number of product developments spearheaded by Callaghan now inauguration.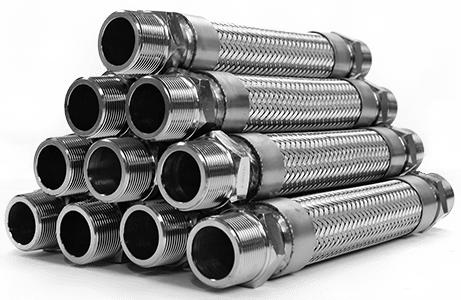 Hydraquip's Metal Hose Division was formed in 2010 to meet an ever increasing demand of stainless steel hose and fittings, stock levels were increased and investments were made into purchasing new and improved machinery to meet customers requirements. The Metal Hose Division has showed constant, steady growth with two acquisition made in 2016 & 17, Ideal Hose & Safety Ltd and Arnold Hose Ltd in Northampton. These became a part of the Metal Hose Division with the existing teams joining the group. Once more Hydraquip's Metal Hose Division witnessed further investments into the buildings and stock for their customers which in turn has proven successful for the business.
To complement the existing LPG hose range, The Metal Hose Division acquired in 2019 Gamma Hose which was merged into the existing Northampton production facility. This acquisition saw the introduction of new lines added to the product range, including both Rubber and Metallic LPG Hoses assemblies for the Leisure industry. As a result of continuous growth the Metal Hose Division serve a diverse range of customers in the UK and overseas market, offer technical support, CAD design, bespoke testing and specialised welding as well as the ability to design and manufacture bespoke fittings for specific applications ensuring each requirement is fulfilled or exceeded. Hydraquip's metal hoses assemblies are suitable for a variety of applications involving extreme working parameters, temperatures of between -269°C and + 750°C and working pressures in excess of 300 Bar. Some typical applications/uses include heating and ventilation, building services, gas, steam, vacuum, chemical, petro-chemical, applications involving vibrations and misalignment of pipe work or movements.
These hose assemblies consist of a convoluted stainless steel core 321 or 316L and the choice of hydro formed or mechanically formed hose, available as unbraided, or with a single or double stainless steel 304 braided finish, depending on the pressure/temperature involved, offering a resistant and durable solution whilst allowing for a life expectancy of in excess of 25 years, dependant on the working conditions involved. The Metal Hose Division offer both stock and made to measure metallic hose assemblies. Custom stainless steel hose assemblies are available in bore sizes from ¼" up to 12", with a wide range of end connections available in a choice of either mild steel or stainless steel such as threaded males and females, fixed and swivel flanges, cam fittings and adaptors. Loose hose and fittings are available for hose trade customers who have in-house facilities to manufacture their own assemblies or when a quick turnaround is required, Hydraquip can offer assemblies from its off the shelf standard range which are available for immediate despatch.
Furthermore, Hydraquip's Metal Hose Division offer a number of products for the Building Services, Steam, Catering, Chemical, Petro Chemical, Gas, Solar and OEM customers.
For sales enquires please contact our Metal Hose Division on 0845 260 4337 or email metal@hydraquip.co.uk